Overnight in Joshua Tree
Well champs, it's Monday morning and I am back on the grind.
Is it crazy that I am already counting down the days until the weekend? More so I semi wish it was Thursday because then I would be on my way to Las Vegas to see Bryce and Antonio! I have only been counting down the days since they first moved away in July, no big deal ha. But before I get too ahead of myself, I wanted to share my adventures from this past weekend because each is definitely one for the books.
My camping trip had finally arrived and man oh man was I stoked.
The festivities began early Saturday morning as Chris and I cruised over to Joshua Tree for a day of hiking and an evening under the stars. We were well prepared with snacks, meals and plenty of liquids to remain hydrated as we wove our way through trails and climbed up and around rocks. I have always climbed up with slight ease, it is coming down that scares me the most; one misstep and it is bye bye birdy.
The adventures only continued as we got an up close and personal look at the mines and found a quaint place at Jumbo Rock to picnic in the shade. I could have sat in the little alcove all day if time permitted, but I was ready to journey on because we were racing the sun. We hopped on over to Skull Rock and channeled our inner Asian tourist as we snapped our photos and posed for the camera (each photo came out pretty well if you ask me). After that, we only had time for one more excursion before we would have to set up for camp.
My final excursion has and most likely always will be the Cholla Cactus Gardens; it is without a doubt one of my favorite areas in all of Joshua Tree. We strolled through, only reaching a quarter of the way before the summer heat began to take its toll. All is well through; we arrived at the campsite in perfect time. I saw the sun set behind the mountains in the West and the moon slowly rise over the hills in the East as it greeted the stars above.
I remember just sitting there in silence, starring up above in complete awe of the majesticness before me. I kid you not, it is beyond breathtaking; the sky is out in full force. There are no city lights to take away from its beauty or distract one's eyes. It is just you and the view. Additionally, you are surrounded by silence… in the peaceful serene type of way where the loudest noise around for miles in the crackling of the fire. It is a refreshing experience and the perfect way to recharge. It is also one hell of an adventure if you go with the right folks.
We hit the hay shortly after we finished dinner, which he prepared over open flame, and rose early the next morning. We packed up all our belongings into the GeeWizard and began our journey back to Los Angeles. After about an hour or so I made a suggestion that we head to Salvation Mountain and whoa baby was it worth the extra time spent in the car. I am just going to sprinkle a few pictures down below because no formation of words could do this mountain of art justice.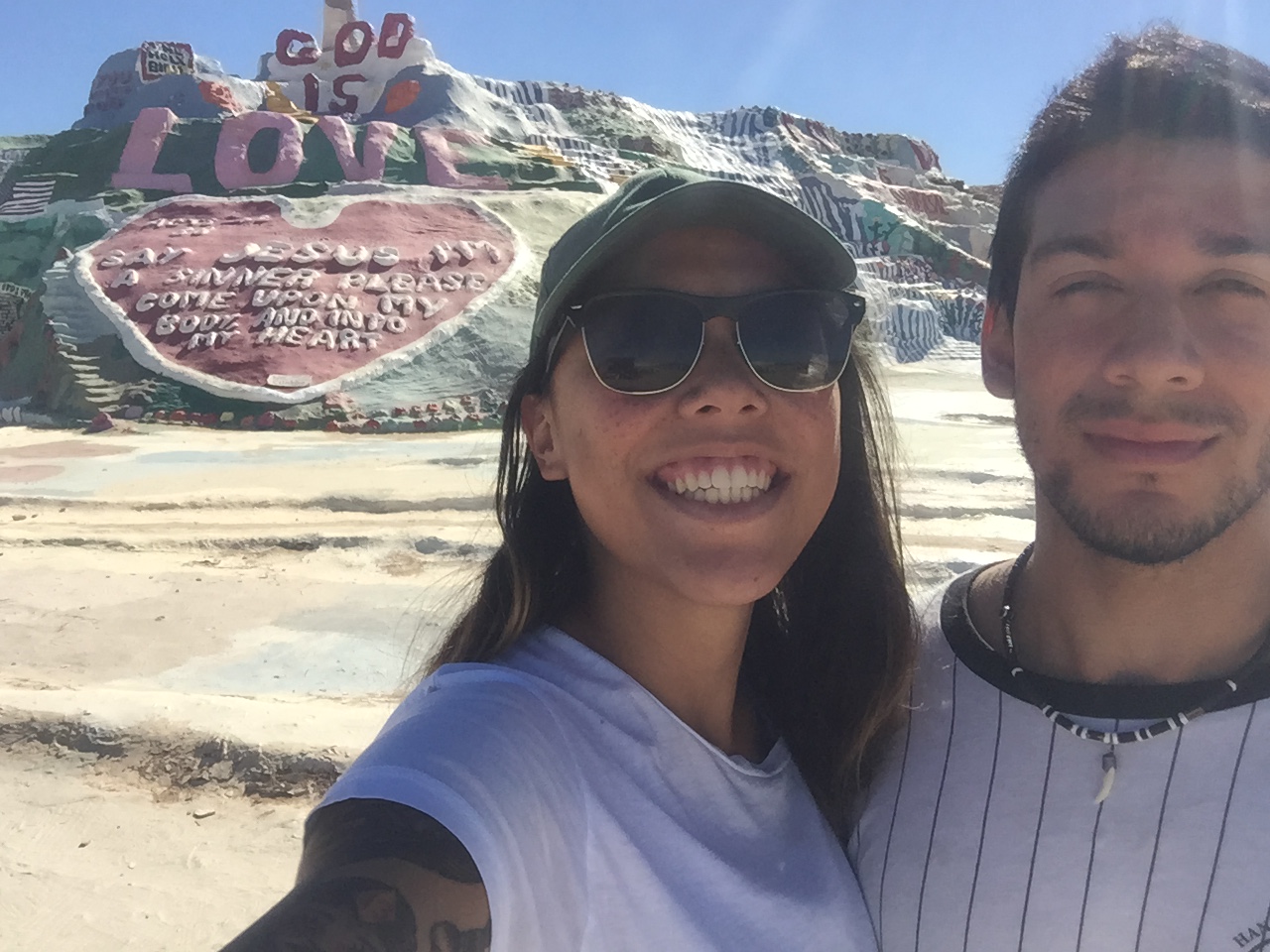 We wrapped up at Salvation Mountain after half an hour and got back into the car, only to realize how truly terrible we both smelled, ha. We journeyed home, pit stopping for gasoline and In n Out burger (your girl was starving). The ride back was peaceful, with groovy tunes and much needed conversations. I have and always will be a fan of heart to hearts and picking people's brains.
We arrived back in the city a few hours later and temporarily parted ways to de-stink-ify and unpack our gear. I also squeezed in a phone call to my parents to catch up on the weekend excursion and to share my love.
Chris swooped me up around three and it was on to the rock climbing gym. Fun fact: I have a slight fear of heights and Barbie-like arms. I did my best to climb, even though I may have fallen a little short. Nonetheless, I am still proud of my small accomplishments. If I committed to going on a regular basis and received a little assistance/training, I know I could overcome my fear and find the rhythm for rock climbing. It is a fun sport and definitely a workout.
After rock climbing, it was a homemade dinner and a show aka homemade pasta and films. It was the perfect way to wind down after being active and in the sun for two days.
I have been a very happy camper for the past three days. I am extremely grateful and appreciative for all the efforts Chris put into making the weekend special; it is quite an odd feeling to celebrate your first birthday apart from your twin. So the extra love was definitely what the doctor ordered.
Keep on keepin' on!